Wine Squirrel in a nutshell
Many people enjoy having a glass or two of wine but do not wish to drink a whole bottle and would like to keep the rest for another occasion. The problem is that once the bottle is open, the wine goes bad quickly on exposure to oxygen. To solve this problem we have created Wine Squirrel: a beautiful crystal decanter that keeps your wine fresh by providing an oxygen-free environment.
The key to the effectiveness of Wine Squirrel is its unique patented* sealing mechanism, which provides an airtight seal whether you are preserving one glass or most of the bottle. Without oxygen spoiling the wine you can preserve unfinished bottles for weeks. We have tested this extensively using different types of red and white wine. Want to open a bottle of wine, have a glass, go away for a couple of weeks and enjoy the rest of the bottle on your return? No problem with Wine Squirrel!
Wine Squirrel has a truly unique combination of features: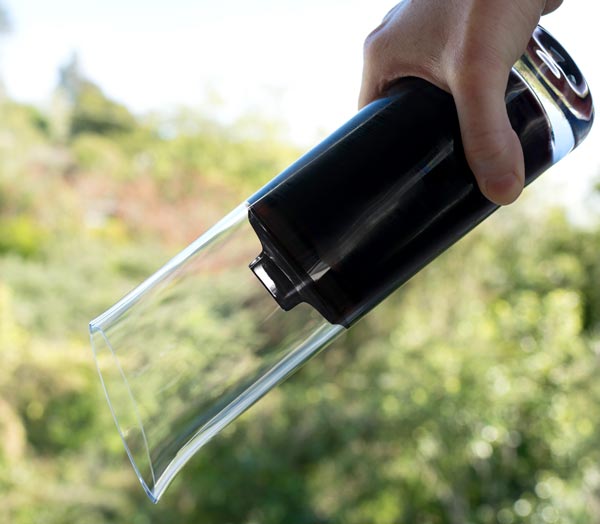 The seal in the Wine Squirrel decanter provides an effective oxygen barrier and preserves your wine
You can use Wine Squirrel again and again without the need to continuously buy consumables
Wine Squirrel works with wine from cork or screw-cap bottles
Wine Squirrel is easy to use
Wine Squirrel can be conveniently stored in your wine fridge or a standard fridge door – the seal is so good you can even store it horizontally
Wine Squirrel will quickly pay for itself. Think about how much wine you can avoid wasting
The Wine Squirrel decanter has been elegantly designed and made from high quality lead-free crystal, so it looks beautiful at the dinner table
Wine Squirrel would make a perfect gift for any wine lover
About Forever Products LLC , the company behind Wine Squirrel decanters
Wine Squirrel is a product of Forever Products LLC, which is a family-owned company founded by Tony Gonsalves and his brother Maurice. Tony, a physicist based in Berkeley California, created the Wine Squirrel concept and developed it in conjunction with Clive Solari from the Sydney-based industrial design firm D3 Design.
*US patent number 9676526 B2. International patents pending.