!—- Global site tag (gtag.js) – Google AdWords: 828558387 -—>
Wine Squirrel works like a charm! Saved an open bottle for 2 weeks without any degradation in taste. Love it!

Amazing, that is the only word needed. I make my own wines and Wine Squirrel is absolutely perfect.

I love my Wine Squirrel. There's really nothing as functional, or elegant in the marketplace today.

Just to say that I've been using my Wine Squirrel for about 3 weeks now and it is awesome. Great product guys. Thank you.

I really enjoy my Wine Squirrel. I've been looking for a product like this for a long time.

Our Wine Squirrel is truly phenomenal! We've kept wine in it for two weeks, and it was as if we had just opened the bottle. Possibly better! And it looks great.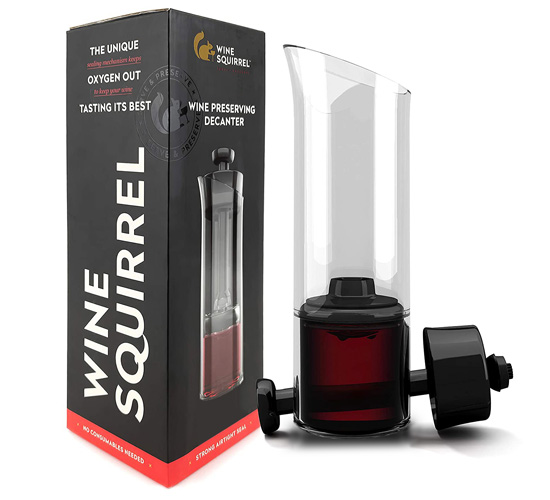 How the Wine Squirrel decanter works
Have a glass or two of your favorite wine and keep the rest of the bottle in prime condition using this revolutionary new wine preserving decanter. The unique patented* sealing mechanism keeps oxygen out and can preserve your wine for weeks.
*US patent number 9676526 B2. International patents pending.
Watch the video
learn about the story and see the Wine Squirrel decanter in action
I kept half a bottle of my Crane Vineyard designated pinot noir in the Wine Squirrel decanter for 2 weeks and it was still perfect